Okay, so apart from this town being the place where the most wonderful human being ever lives – my dear, sweet, lovely Mr. Cohab –  I'm not at all sure that I like to be back home.
I've had a lovely sojourn in Wales, and I'm absolutely flabbergasted by the great beauty of the country and the immense kindness of all the people I've met on my meanderings.* Even the staff working at Cardiff airport were really nice and friendly, and I can't resist comparing them to the staff back home at Landvetter airport. At Landvetter, the staff hardly bothered to answer any of my questions, and a customs lady with a drug dog actually barked at people (she did, not the dog) for not shuffling past her in a pace that suited her.
From now on, I'll only travel abroad by train, bus and boat**, and I'm already busy planning next year's route including hikes and horseback riding. Also, I'm really eager to cross the Pontcysyllte Aqueduct and to visit Snowdonia. This time I only got as far as to Brecon Beacons – which isn't bad! Highly recommended!
Cardiff Bay – Scott's Antarctic Expedition memorial: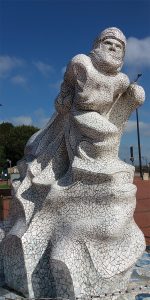 Roald Dahl and his giant crocodile book has a place in Cardiff: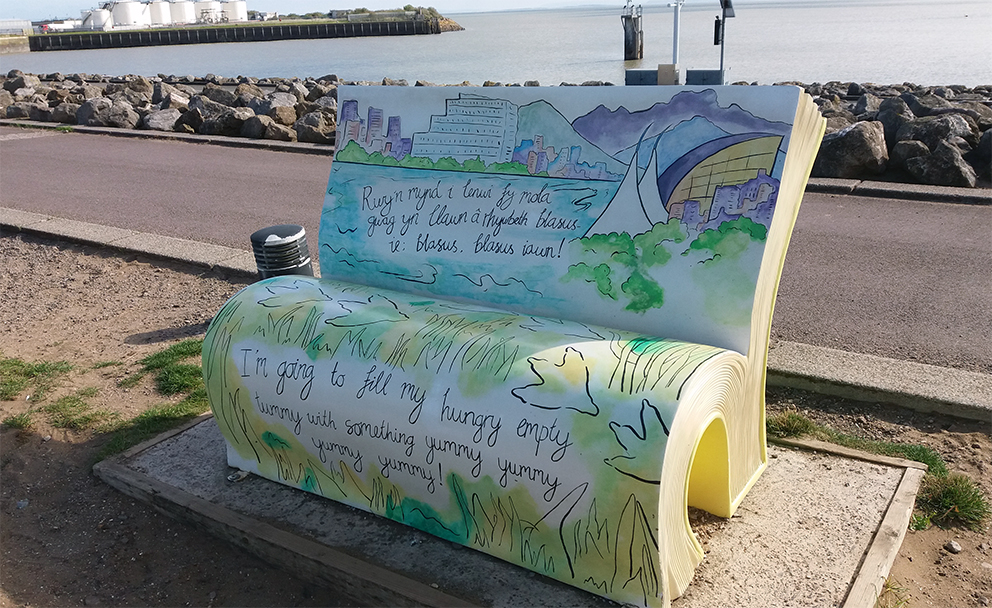 And when in Cardiff, don't miss visiting the National Museum. They offer a walk through the history of Cardiff, all the way from the birth of Earth itself up until modern time. It's fascinating to be "on site" when the planet is formed and when Wales first surfaces and travels across the globe to its current location, when it shows its first signs of life, starts its evolution of fauna and flora and eventually enters the age of industrial development. My favourite part of this walk was the chance to actually pat an Apatosaurus (its thigh bone) who lived  some 220 million years ago. The mind staggers at the thought!
At the National Museum of Cardiff there is also a fine collection of paintings and sculptures by famous artists, e.g. Turner, Monet, Rembrandt, Renoir and Degas. And also: the Welsh landscape painter Syr John Kyffin Williams. Not to be missed!
* Except an unexpected Swede on a bench in Chepstow, who for some reason thought it a good idea to eavesdrop on my private telephone call back home, only to interrupt my conversation with Mr. Cohab and vent strange opinions on what I was talking about.
** Apart from the rather humiliating experience of security checks and strange people patting you down if you've forgotten to remove a coin from your pocket, demanding to see your passport every other minute, giving you orders and you yourself obeying them like a sheep off to shearing, the constant delays of flights and the necessity to run like a maniac for a mile – no kidding! – to get to your connecting flight …  it just isn't worth it.